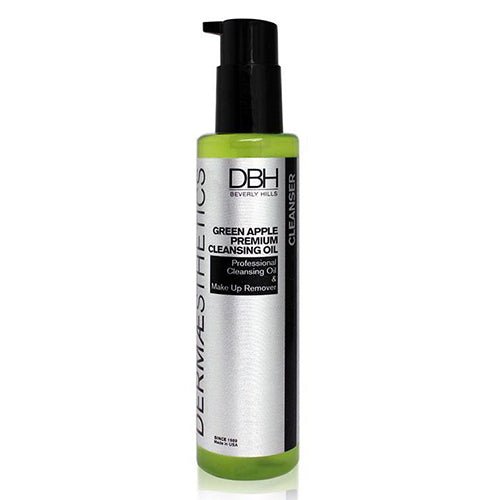 The Dermaesthetics Green Apple Premium Cleansing Oil is a macadamia nut oil-based pre-cleanser used as a makeup remover to lift and clear away cosmetics and product buildup. With the chemical reaction of "oil attracts oil", the natural sebum from the surface of the skin is attracted to the cleansing oil and dissolved. This unique cleansing oil thoroughly penetrates and liquifies away debris and make-up as a prep for secondary cleansing. Gentle enough to be used around the eyes and mouth.

SKIN TYPES  All Skin Types

KEY BENEFITS

Non-oily
Dissolves make-up instantly
Liquifies debris
Ideal for face and neck including eyes
KEY INGREDIENTS
Macadamia Oil: Derived by pressing the fruit of the Macadamia, benefits the skin as an anti-aging, antioxidant, nourishing, smoothing, moisturizing and wound healing agent. It is a paraben- and additive-free oil, obtained by pressing the fruits of macadamia.
Jojoba Oil: A bio-organic anti-oxidant lubricant used as a natural skin conditioner for moisturizing and repairing the skin from epidermal water loss.
Squalene: Acts as a moisturizing, anti-aging, healing and moisturizing. It is made from shark liver oil.
Tocopherol: Antioxidant. Improves skin's elasticity, moisturizes and protects the skin.

HOW TO USE

Massage approximately 1 tsp. directly onto the dry face.
Then emulsify with water all over the face to a milky consistency in circular movements for approximately 1-2 minutes. (Can be used to remove eye and lip makeup.)
Rinse face well with warm water.
Follow with a second cleanse using the appropriate cleanser.
Rinse and pat the skin dry with a towel
Saturate 2 cotton rounds with the appropriate Dermaesthetics Toner to the face.