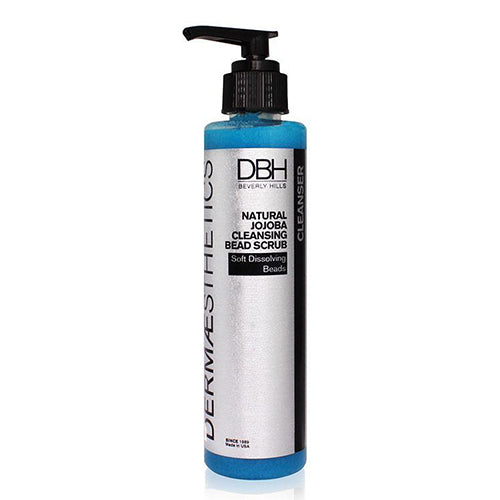 The Natural Jojoba Cleansing Bead Scrub gently massages away rough and dry skin and exfoliates congested pores. Unlike granular and mechanical scrubs, the natural jojoba oil beads melt away with water leaving a smooth and conditioned complexion free of microabrasions or irritation. Enriched with Aloe Barbadensis, this cleanser heals and soothes damaged skin. Suitable for all skin types. Aids in the prevention and correction of Keratosis Pilaris, Folliculitis Barbae, and other minor skin congestion.

SKIN TYPES  All skin types

SKIN CONCERN  Light acne, Heavy acne, Fine lines & Wrinkles, Sagging skin, Thinning skin, Hormonal hyperpigmentation, Scar repair, Sun Spots, Age Spots, Body Acne, Dull skin

KEY BENEFITS

Daily mid exfoliant with dissolving jojoba beads
Removes surface layers of dead skin
Leaves skin smooth
Clears congestion
KEY INGREDIENTS

Jojoba Oil: A bio-organic antioxidant lubricant used as a natural skin conditioner for moisturizing and repairing the skin from epidermal water loss
Aloe Barbadensis: Extracted from the leaves of the Aloe plant provides medicinal properties to the skin such as healing, hydrating, and softening. Aloe Barbadensis leaf contains 20 minerals, 20 amino acids, 12 vitamins, and active enzymes
Beta Carotene: An antioxidant, can help to reduce levels of oxidative stress and contribute to the overall enhancement of one's skin appearance
HOW TO USE

Apply a nickel size of Dermaesthetics Natural Jojoba Scrub to damp fingertips. Emulsify product onto damp skin in circular movements for approximately 1-2 minutes.
If skin is congested, let sit on skin for an additional 3 minutes. Rinse face well with warm water until all the product is removed. Pat skin dry with a towel. Saturate 2 cotton rounds with the appropriate Dermaesthetics Toner. Wipe the face clear of all product residue.