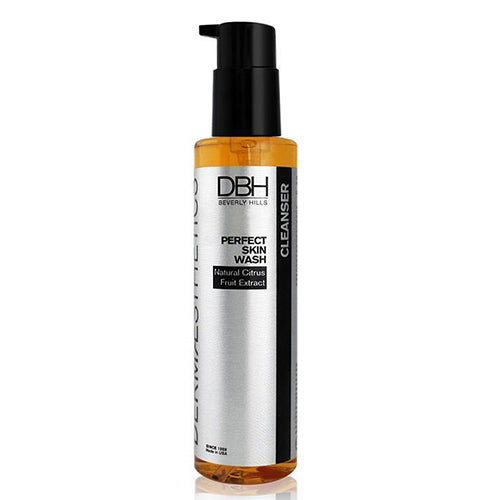 The Perfect Skin Wash is the ideal daily cleanser for all skin types: normal/combo, dry, sensitive and oily. Delivers a gentle pure cleanse without any drying or tightening sensation. Features multiple fruit extracts - oranges, lemons, tangerines, and grapefruit to neutralize antioxidants and Shea Butter to moisturize.
SKIN TYPES   Normal and Combination

SKIN CONCERN   Sun spots, Age spots, Skin brightening

KEY BENEFITS
Hydrating
Calming
Deep Cleansing
KEY INGREDIENTS
Pyrus Malus Extract: Anti-aging and skin-smoothing
Orange Extract: Antioxidant with anti-inflammatory properties. Brightens the skin while protecting from solar damage
Lemon Extract: A natural AHA for gentle exfoliation. Has toning and purifying properties. Contains active molecules of Vitamin C and B
Grapefruit Extract: Ability to tone the skin and works great for oily and acne-prone complexions
Tangerine Extract: Help to brighten and smooth out the overall tone
Shea Butter: It works as an emollient that softens and hydrates skin. Because it contains several types of fatty acids — including linoleic, oleic, palmitic and stearic acids — that improve the skin's natural barrier, shea butter also protects skin from damage from the environment like pollutants
Tocopheryl Acetate: Hydrates, smooths and lubricates the skin. Combats the formation of wrinkles, fine lines, and dry skin
HOW TO USE
Apply a dime size of Dermaesthetics Perfect Skin Wash to damp fingertips.
Emulsify product onto damp skin in circular movements for approximately 1-2 minutes. (For oilier skin, leave on for an additional 3 minutes.)
Rinse face well with warm water until all the wash is removed. Repeat. Pat skin dry with a towel. Saturate 2 cotton rounds with the appropriate Dermaesthetics Toner.
Wipe the face clear of all product residue.