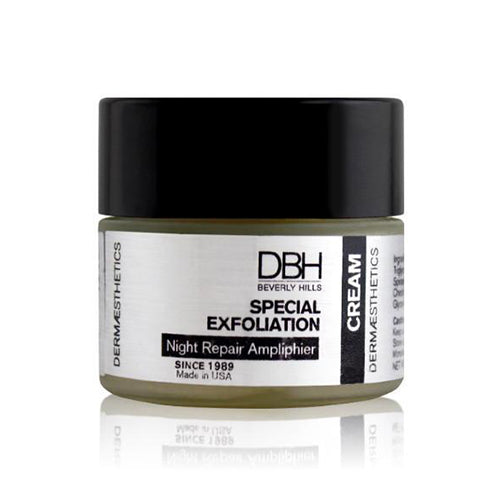 A night treatment cream used during the skin's natural nightly repair cycle, the Special Exfoliation PM Resolve moisturizes and aims to encourage cell turnover, lift away uneven pigmentation, and smooth the texture of the skin. Cell regeneration is accelerated as the skin is nourished with essential moisturizers for a more radiant, and even complexion.

SKIN TYPES  All Skin Types

SKIN CONCERN  Congested Skin

KEY BENEFITS

Blind Exfoliation
Cellular Turnover
Smooth Texture
Lifts Pigmentation
KEY INGREDIENTS
Glycolic Acid, Alpha Hydroxy Acid: A natural by-product of sugarcane, Alpha Hydroxy Acid is used as a mild exfoliant to remove superficial cellular buildup, congestion, minimize fine lines, wrinkles, superficial scarring and acne control
Green Tea Extract: Helps diminish the signs of aging, calms irritation, soothes redness and swelling, and repairs damage
Yeast Extract: Yeast extract comes from a single-celled microorganism considered part of the fungus family. It and ingredients derived from it (such as beta-glucan, a potent antioxidant) can have hydrating and soothing properties. The types of yeast used in cosmetic products are not harmful and in fact likely contribute to creating a healthier-looking skin surface due to their softening and conditioning action.
Arbutin: Reduces high levels of pigmentation to lighten age spots and even tone
Squalene: Powerful anti-aging properties and will help the skin age gracefully as well as anti-inflammatory benefits
Licorice Root Extract: Extract inhibits the production of tyrosine, in turn inhibiting the production of dark spots
Panthenol: A derivative of Vitamin B, and also referred to as Pro-Vitamin B. Anti-inflammatory and a moisturizing agent. Heals the skin of dehydration and stimulates epithelization
HOW TO USE
After cleansing face, toning and applying serums, apply a dime-size amount and pat thoroughly onto face and neck. (Evening)
Follow with EGF UV Shield SPF product in the daytime. Use nightly.