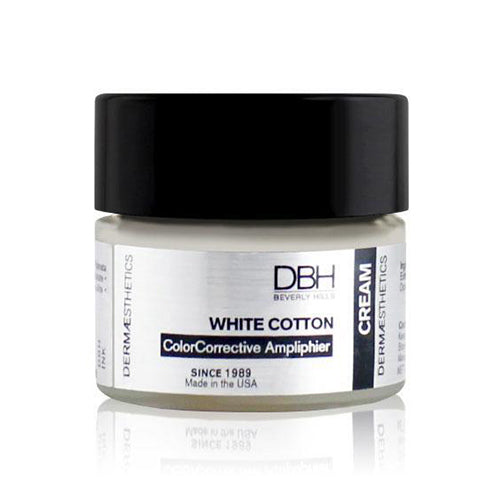 The White Cotton Cream is a transformative moisturizer that corrects and prevents hyperpigmentation and dark spots for a more even complexion. Formulated with arbutin, red algae, licorice root, and niacinamide to inhibit excess pigmentation formation, this cream delivers a brighter, smoother skin tone with a natural radiance. Aloe vera extract and panthenol (vitamin B) provide deep, soothing, and calming benefits.

SKIN TYPES  All Skin Types

SKIN CONCERN  Hormonal hyperpigmentation

KEY BENEFITS

Nourishing+Hydrating
Calming+Soothing
 Light weight
Oil free/water based
KEY INGREDIENTS

Arbutin: Reduces high levels of pigmentation to lighten age spots and even tone
Aloe Vera: A natural extracted from the leaves of the Aloe plant provides medicinal properties to the skin such as healing, hydrating and softening
Glycolic Acid, Alpha Hydroxy Acid: A natural by-product of sugarcane, Alpha Hydroxy Acid is used as a mild exfoliant to remove superficial cellular buildup, congestion, minimize fine lines, wrinkles, superficial scarring and acne control
Tocopheryl Acetate: Hydrates, smooths and lubricates the skin. Combats the formation of wrinkles, fine lines, and dry skin
Niacinamide: Manages excess production of melanin due to sun damage and age
Licorice Root: Extract inhibits the products of tyrosine, in turn inhibiting the production of dark spots
Palmaria Palmata Extract: A natural skin brightener sourced
HOW TO USE

After cleansing face, toning and applying serums, apply a dime-size amount and pat thoroughly onto face and neck. (Morning+Evening)
Follow with EGF UV Shield SPF product in the daytime.